Free EContent Magazine Subscription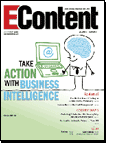 This is a unique print magazine that focuses on the business of digital content – sweet! You can now request a subscription for free – this usually costs $119 a year. So share the news. Please note that the offer is subject to availability which we do not have control or influence over. Share it quickly before they pull it. I've also written a post you can copy and paste on your blog below.
Subject: Did You Get Your Free Subscription To EContent Magazine Yet?

Just caught wind of this. EContent magazine is a print magazine that focuses exclusively on content, in particular, digital content. Here are some of the topics that they cover:

- News and analysis of what's happening in the content industry (product announcements, technology trends, metrics, etc.)
- Feature articles covering the latest trends and issues
- Content creation, acquisition, organization, and distribution

Right now, you can get one years' subscription for free - normally costs $119 a year. But you need to submit a request and they'll tell you right away if you will be receiving a subscription. Also, they are opening this to US residents only - what a bummer. But if you fall within the criteria. This could be a good magazine to get your hands on - and not to mention, lets you stay off the computer at least for a while. Request your subscription directly from this page: https://blogenergizer.com/econtentmag

*Note: This post contains affiliate links that will compensate BlogEnergizer.com upon successful completion of your request.